Laura's vision
For over a decade, Chief of Divorce Evolution Laura Wasser has been changing the face of divorce.
Despite her renown as a divorce attorney to the stars—or perhaps because of it—Laura has made it her life's work to help people divorce through less combative, more affordable solutions.
On this page, Laura dishes on how divorce really works behind the scenes, and her passion for easing the toll divorce can take on families and children.
Start your divorce online
Ask Laura
Laura shares her wisdom on
the journey that is divorce
You've made a name for yourself as a celebrity divorce attorney, so you must be pro-divorce, right?
Not at all! But if divorce is happening, I want to help the family move through the process in the most amicable and cost-effective way. I do believe that if a couple is not growing and thriving together, separation and even divorce can be better options than staying together based on some antiquated notion of "'til death do we part."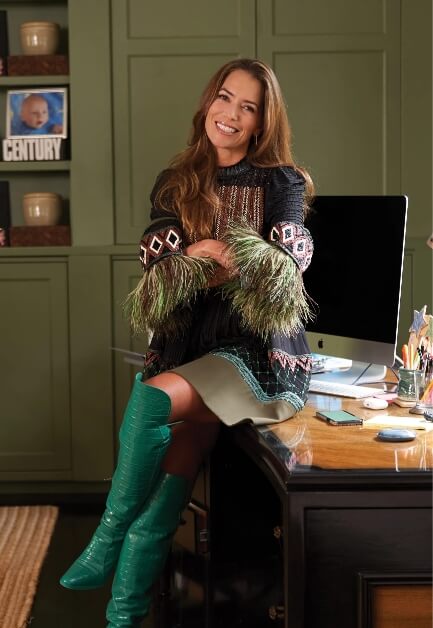 My husband and I think we want to use Divorce.com, but we want to hear from you. Why should we use Divorce.com?
Divorce.com is a fantastic tool for families who want to be the masters of their own destiny. Our online platform gives a quick education on the divorce laws in your state. Applying them to your situation—together with the knowledge you both have about your children, your financial situation, etc.—can be an incredible savings of time and money. Arriving at a resolution together is nearly always more satisfying.
You're a divorce attorney, but I've heard you say that hiring attorneys isn't always the best path?
I've seen far too many couples who want to proceed with their coparenting and financial obligations in a calm manner get amped up and torn apart by attorneys. Think about it—the more conflict there is, the more money the attorneys make. And in most cases, they're just doing their jobs to advocate for their clients, but the process is slow and adversarial by its very nature. Wouldn't it be better for you and your family to resolve things in a reasonable way, with all those attorney fees you saved put toward something necessary or rewarding?
Submit a question to Laura
Laura is a sought-after voice on TV, print, podcasts, and social media, speaking on women's issues, the evolution of divorce, and entrepreneurship. Below, you can hear Laura's insights on a broad spectrum of divorce topics.
PODCASTPodcast
---
The Game Changing Attorney Podcast | Laura and host Michael Mogill discuss the common denominator of most divorces, the "evolution of dissolution," and advice for those questioning their relationships.
Girls Gotta Eat Podcast | In this engaging and fun conversation, Laura discusses how Divorce.com is changing the game, prenups, and the advice she gives anyone considering divorce.
Insta Live with Susan Guthrie, Divorce & Beyond Podcast | Laura speaks about how her new role as Chief of Divorce Evolution at Divorce.com is helping her continue to realize her goal of making divorce healthier and more cost effective for families.
Money Rehab with Nicole Lapin | Laura breaks down how to get divorced without losing everything.
---
IMAGESImages
---
---
VIDEOVideo
---
Here's what our customers have to say:
I love how easy this was to file for a dissolution of marriage between my ex husband and I.
Tiffany C., Ohio
The forms are very clear and easy to understand and customer support was very friendly and helpful.
Loria R.,Georgia
This service is really easy to use. Just be sure to have all of your documentation ready prior to starting the process.
Ian A.,Pennsylvania
It was easy and straightforward and I would recommend it to anyone.
Marsha M.,Florida
It was convenient and easy to do our divorce.
David D., Washington
The process was nice, simple, and descriptive, didn't take long and it was easy to do hopefully I don't have to go through this again but if I did I would use their service again.
Aaron M.,Georgia
This was a great relief the simplicity of filling out paperwork took a great load off my mind. Would recommend to anyone wanting a easy and quick divorce.
Lisa M.,Pennsylvania
It was easy to use and I didn't have any trouble filling out the forms.
Courtney G.,Missouri
I would recommend this service to anyone who is in this terrible position. It was one of the easiest things I have ever done.
Angela D.,Ohio
I appreciate the ease and privacy to go through the paperwork of my divorce at me own pace and time.
Tonbra A.,Virginia
It's very easy to use and quick. I recommend this service to anyone that is getting a divorce.
Anthony R.,Pennsylvania
The service was really easy. Simplicity is needed when we are stressed. Thank you very much for providing this service. I really appreciate it!
Dawn T.,North Carolina
I really appreciate this easy application. It was to my understanding and you don't have to worry about the stress.
Tracy M.,Georgia
I found this service to be a major benefit considering all the different responses I got from attorneys only to find out it be a major savings for me.
Frederick H.,Washington D.C.
I found this service through a friend who had used it. I found it to be as easy and straightforward as she had said.
Michele M.,New York
After seeing on-line testimonies, I chose this service for my divorce. It was quick and painless.
Octavio B.,California
long process but really helps when covering all bases in order to provide best help in achieving your goal for divorce.
John R.,Delaware
I am filing for divorce and I have been so scared you made it so easy.
Christie M.,Kansas
Very fast and easy way to file court documents without a lawyer, and having to pay a huge fee.
Christina R.,Indiana
Divorce.com offers divorce solutions throughout the United States and Canada.