How Easy Is It To Get Divorced? What You Need To Know
How Easy Is It To Get Divorced? What You Need To Know
How Easy Is It To Get Divorced? What You Need To Know
By Divorce.com staff
Updated Sep 20, 2022
Sometimes marriages don't work out. If your relationship has ended, you might be wondering: how easy is it to get a divorce? The traditional divorce process is often challenging to navigate, leaving many divorcing couples wondering if there is an easier (and less expensive) way to move on with their lives.
Having a relationship end is stressful enough without the added burden of a lengthy litigation process in court. Luckily, many options available to divorcing couples can allow them to get the closure they seek more quickly than the traditional divorce route.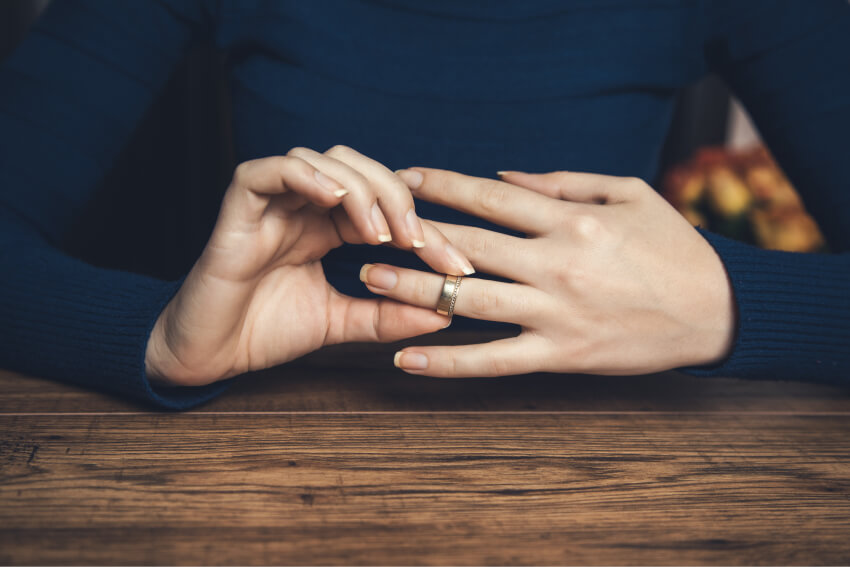 Is It Possible To Get a Quick Divorce?
The short answer is yes. However, every situation is different. Disputes surrounding alimony or child custody can cause a divorce case to go on longer than initially anticipated. If you and your spouse are having trouble seeing eye-to-eye, you might not be able to get through the divorce proceedings in a timely fashion, even with one of the quicker divorce methods.
No-Fault Divorces vs. Fault-Based Divorces
A no-fault divorce is where the filing spouse doesn't have to cite a specific reason for filing or prove that their partner committed some form of marital misconduct. The simple fact that a marriage has broken down and there is no hope of making amends is acceptable.
A fault-based divorce is one where the filing spouse must prove that their partner behaved in a way that directly contributed to the marriage breakdown (marital misconduct). Without proof, a judge will not formalize the divorce.
All states recognize no-fault divorces, but some still allow fault-based divorces. In some states, a couple has to be separated for a certain amount of time before the court will formalize their divorce; a no-fault divorce is not exempt from this requirement.
Uncontested Divorces vs. Contested Divorces
An uncontested divorce has no disputes surrounding issues like the division of property, child support payments, spousal support (alimony) payments, or any other relevant matters. In uncontested divorce proceedings, the spouses agree on everything, so there is no need for lengthy litigation in court.
A contested divorce is one where the divorcing couple cannot see eye-to-eye and have to request their case be presented to a judge to settle their disputes in family court. Regardless if you and your spouse disagree on only one thing or many things, your divorce case will be treated as a contested divorce in a court of law.
Common Causes of Lengthy Divorces
Sometimes, cases go on longer than anticipated because the spouses cannot compromise on specific issues.
Common causes of lengthy divorce proceedings include but are not limited to:
Child custody disputes
Alimony disputes
Property disputes
Things can often get messy when minor children are involved, and many divorcing couples cannot agree on custody types and visitation schedules.
Steps To Take for a No-Fault, Uncontested Divorce
Many couples who file using the no-fault method also have uncontested divorces. However, they aren't mutually exclusive. No fault simply means neither spouse blames the other for the marriage breakdown.
Issues like where minor children will stay if one spouse is entitled to alimony, and how property is divided are entirely separate. So, it's possible to have a contested divorce still when a spouse submits divorce papers using the no-fault filing method.
For a no-fault, uncontested divorce to be successful, these three things need to happen:
File a divorce petition/petition for dissolution of marriage (consult your county clerk)
Serve your spouse with a summons ( you can't serve them yourself )
Your spouse must respond within the specified timeframe.
Next, there will be a waiting period while the court processes your request. In the meantime, you and your spouse must draft a settlement agreement in preparation for your court hearing.
For an uncontested divorce, this should be very simple. Since you and your spouse don't have any disputes, the judge can make their ruling quickly, as long as they believe the settlement is fair for both parties.
Do You Need a Lawyer?
If your divorce is uncontested, it's unlikely that you'll need a lawyer. Since there are no disputes, and you're both on the same page, you and your spouse could save money by forgoing legal aid. If you and your spouse start disagreeing at any point, and you feel like you'll no longer be able to handle the divorce proceedings amicably, you might need to seek legal representation.
Exploring Options Beyond Litigation
For couples looking to avoid lengthy litigation processes, there are a few other methods of divorce that could be worth exploring as well. These options might be good for you if you're looking to save money, potentially have your divorce formalized faster, or forgo divorce altogether.
Legal Separation
A separation agreement can be either legal or informal. Formal separations are handled outside of court; the spouses will determine the terms of the contract between themselves. This could work if the spouses get along well and trust each other to stick to the terms of the agreement.
Legal separations are formalized via court order, so if you wish to be legally separated from your spouse, you'll still need to go through the court system. However, it's likely to be much less time-consuming than the lengthy litigation that often comes with a traditional divorce.
Legal separation doesn't end your marriage and is a good option for couples who think they might reconcile in the future or who want to keep their joint health insurance plan (standard for couples with minor children). Note that legal separation is prohibited in some states.
Mediation
Mediation is another alternative method to the traditional divorce route. You don't need a lawyer or attorney to mediate; any qualified person can act as a neutral third party. Divorcing couples can pick someone experienced in handling their specific issues (ex: a social worker).
Mediation can be handled outside of court and is often much quicker, so long as the spouses can get along. Lawyers can often make situations like these feel hostile, even if it isn't the intention. So mediation could be an excellent option if you think agreeing on things like child custody, alimony, or a visitation schedule can be done without legal aid.
Collaborative Divorce
Collaborative divorce is based on collaborative law. Collaborative law is another alternative dispute resolution type commonly used in divorce cases and other family law cases (ex: domestic violence). This dispute resolution is similar to mediation in that it can be handled outside of court.
You and your spouse will need to bring in your lawyer and other relevant personnel (ex: an accountant). If you or your spouse decides to sue, the lawyer consulting on your divorce case will not be able to help you anymore. You'll each need to hire an attorney (litigator) to represent you in court.
Do-It-Yourself Divorce
You don't need to hire a lawyer or attorney to file for a DIY divorce (even when you go to court); you can source the proper paperwork and file on your own (clerk's office). However, in most cases, you'll only be able to file DIY divorce forms if your divorce is uncontested.
If there are disputes on the table, it could be best to consult a lawyer or attorney for legal advice before moving forward. You should also research this method to fully understand the risks of handling complex legal documents on your own.
Get the Support You Need With Divorce.com
We understand that divorce is a sensitive topic; the last thing any couple wants is for their marriage to end. We help to divorce couples by providing them with the resources and support they need to move on with ease.
Generate the Divorce Forms Your Situation Requires
We'll generate divorce papers that are right for your situation. If you have minor children, the paperwork you need to file will be different than it would be for a couple who doesn't have any. We'll also ensure your divorce forms align with your local laws.
Access on-Demand Mediation
We can help you get started with on-demand mediation if you and your spouse want to work things out outside of court but need help meeting in the middle. Our prices start as low as $49.
Find a Family Law Attorney From Our Trusted Network
If you're still having trouble seeing eye-to-eye with your spouse, we can connect you with an independent attorney specializing in family law. You'll even get a free initial consultation.
The Bottom Line
Divorce proceedings can be stressful, but they don't have to be. We're here to help you formalize your divorce while saving time and money. Learn more about what we can do for you.
---