5 Reasons Why You Should Hire a Divorce Consultant Service
5 Reasons Why You Should Hire a Divorce Consultant Service
5 Reasons Why You Should Hire a Divorce Consultant Service
By Divorce.com staff
Updated Feb 15, 2023
Once a couple has decided to end their marriage, they have many things to consider as they prepare their divorce agreement. In many cases, couples can hire a divorce consultant service to help facilitate a smoother process to get their divorce decree from the court.
Let's see if divorce consultant service makes sense for you.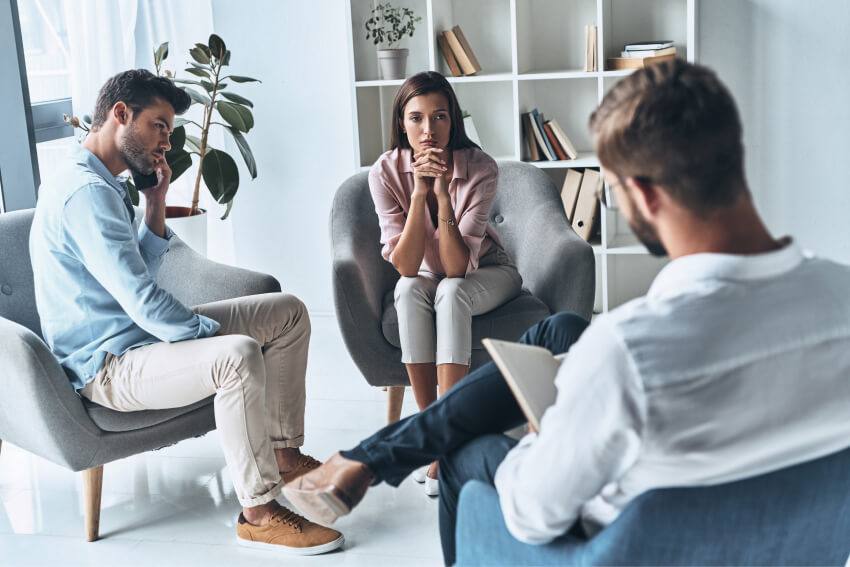 What is Divorce Consulting?
It is critical not to confuse divorce consulting with a divorce consultation with an attorney. A consultation with an attorney is when you present the beginning details of your divorce with an attorney that you may or may not have represent your interests in the divorce.
However, divorce consulting is different than a divorce consultation. Divorce consultants provide practical help to the client throughout the divorce process.
While they do not represent the client in the divorce, divorce consultants provide clients legal guidance and advice for the divorce process as requested by their client.
Divorce consultant duties
How the divorce consultant helps with divorce varies depending upon what the client requests.
For example, a divorce consultant will not review the settlement details with the client unless the client asks for help.
Then, the divorce consultant can explain any details that the client doesn't understand or protect the client from legal misunderstandings that can have lasting repercussions.
Here are a few ways a divorce consultant can help:
Protects the clients' interests through legal advice
Helps clients prepare for divorce negotiations by helping organize and discover critical considerations for the marital assets and child custody agreements
Advises clients on how to fill out and file forms with the court
Prompts clients to consider their financial goals after divorce and how to plan for them
Aids clients in getting the most reasonable co-parenting agreements
Provides insight into what the client can expect during the divorce process
5 Reasons to Hire a Divorce Consultant
1. Save Time
Whether you are the homemaker or the rainmaker, time is hard to come by in this day and age, especially if you are used to the pace of a city like New York or LA. One of the biggest misconceptions going into a divorce is that your attorney deals with everything. Wrong.
You will need to work hard to prepare for, complete, and implement your divorce. If you are a professional, you should be aware that the average lost working time during a divorce is 168 hours or four working weeks!
You need to consider how much your time is worth, and whether you would be better off saving that time, and paying for someone else to help carry the administrative burden of your divorce. The last thing you want to deal with right now is a reduction in your work performance.
A consultant and/or concierge service can complete most non-legal tasks for you at a fraction of the cost of your attorney.
2. Become More Knowledgeable
Divorce is difficult to navigate, and it's even harder without support. A consultant can guide you through all of the options available to you so that you can make informed decisions that will save you time and money.
There is no question that being connected at the outset to the right process and professionals can save you tens of thousands of dollars. You need to know what process best matches your particular set of circumstances because everyone's divorce is different.
Whether that is the Divorce.com do-it-yourself model, a mediated, collaborative, or negotiated approach, or a contested legal battle (let's hope it's not this!), you need to know what shoe fits you best, and who are the best people to help you see it through. Going straight to an attorney is not always the best approach and, moreover, a lot can be done before you get to that point to ensure that you have all your ducks neatly in a row.
3. Save Money
Divorce is expensive and when two households are divided, more often than not, there is a corresponding drop in the standard of your living. You need to ensure that more of your money is not unnecessarily lost during the process.
Using a consultant to help you identify the right process, guide you through it, and help you avoid the many pitfalls along the way, can save you thousands of dollars.
Having an accessible sounding board and strategic thinking partner allows you to focus on the bigger picture and not spend unnecessary time, energy, and money fighting over the small stuff.
Attorneys themselves often admit that they are the only ones that benefit from a litigated divorce. And, if there are children involved, you must try to focus on protecting their financial future as well.
4. Minimize Stress
Having a dedicated person to help you carry the burden of your divorce can be imperative for your health and wellbeing.
For example: moving. We can all agree that there are few things more stressful than having to move. And when you are going through a divorce, there is so much more to organize as you consider all of the challenges involved in dividing one household into two.
On top of everything else, if you have children to consider, the logistics are even more significant. And the mental health and wellbeing of your children must be your absolute priority.
Having a dedicated personal assistant in the form of a consultant or concierge who has a trusted referral network can help lighten your load, and ensure the transition to your next chapter is as smooth as possible for everyone.
5. Gain a Confidant
Often, it is only an independent party who can help you take the emotion out of your communications. Just one tense conversation between you and your soon-to-be-ex can raise the temperature between you, and knock your divorce significantly off course. You cannot avoid communicating with your spouse at this time, especially if there are children involved, so having a separate set of eyes considering and guiding these communications can make all the difference.
And sometimes you will just need to vent! You need someone who is available at your convenience, and it's often wise (and more cost effective) if that person is not your attorney.
Conclusion
Divorce consultants help their clients with the divorce process, from beginning to end. Unlike a divorce attorney, divorce consultants do not represent the client, but instead serve as an advisor and a coach for individuals that are handling their divorce themselves.
Clients that hire a divorce consultant or divorce consultant services for their do-it-yourself divorce, save time and money, understand what is happening during the dissolution of their marriage, feel less stress and, in some cases, enjoy needed emotional support during this challenging life event.
FAQ
What is Divorce Financial Consulting?
Couples that engage divorce financial consulting leverage the experience and expertise of financial advisors that specialize in the intricacies of divorce finance. Unlike a traditional financial advisor, divorce financial consultants know how to optimize and navigate the specifics of dividing the marital assets, and spousal and child support.
Differences Between Divorce Consultant and Divorce Coach
The biggest difference between a divorce consultant and divorce coach is divorce consultants are attorneys. By contrast, divorce coaches have different professional backgrounds to assist in specific parts of the process, like financial planning or emotional support. Perhaps most importantly, a divorce consultant can review legal documents and advise clients about them.
Differences Between Divorce Consultant and Divorce Concierge
Like a divorce coach, a divorce concierge is not a lawyer, but a professional that can help manage the details, emotions, and logistics of the divorce process, before, during and after. What a divorce concierge offers varies by firm, but some common services they provide include mediation, financial analysis, and divorce coaching for their clients.
---