How To Get a Divorce With No Money: Low-Cost Divorce Solutions
How To Get a Divorce With No Money: Low-Cost Divorce Solutions
How To Get a Divorce With No Money: Low-Cost Divorce Solutions
By Divorce.com staff
Updated Sep 20, 2022
Despite what you may think, it's possible to get a divorce without much (or any) money. The cost associated with most traditional divorce proceedings is steadily increasing, and many divorcing couples are left searching for low-cost options.
Whether you wish to have legal aid and can't afford it, or you're just looking to save money overall, several options are available. Read on to learn how to close your divorce case faster and save money.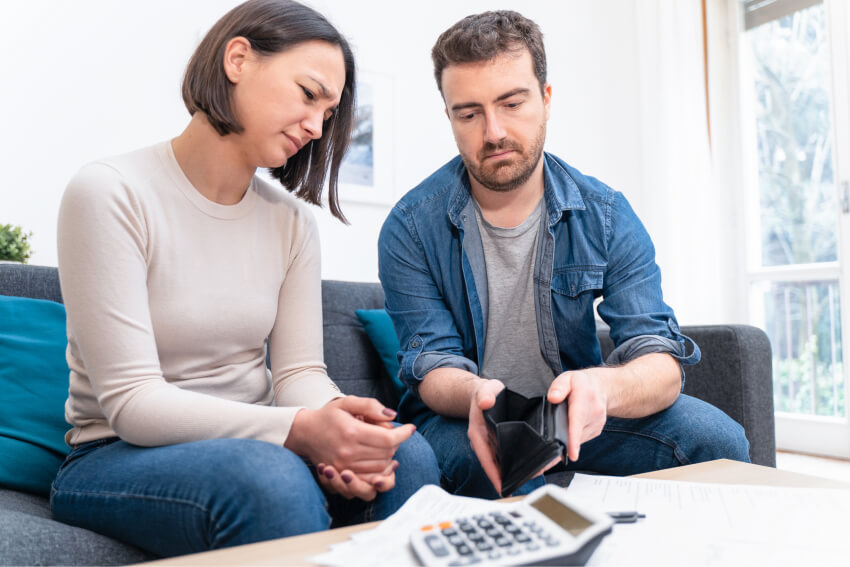 Low-Cost Divorce Solutions: Overview
Here, we will discuss some of the most common low-cost divorce methods. Depending on your situation, you might not even need a divorce lawyer or attorney to guide or represent you.
Uncontested divorce
DIY divorce
Online divorce services
Mediation
Be careful with attorneys
Legal aid or non-profits
Hiring a paralegal
Fee waivers
Consider Using Credit
As you can see, several divorce options are available to couples with a limited financial situation. We'll discuss each of these methods in more detail below.
Uncontested Divorce
Not every divorcing couple argues; some of them agree on everything. Commonly contested issues during a divorce include but are not limited to: child support, division of marital assets, and alimony payments (spousal support).
What Is Uncontested Divorce?
An uncontested divorce involves no disputes between the spouses; they are in complete agreement. When couples are aligned on how they would like to move forward, court proceedings can move much faster. Without much to discuss, the judge can issue a ruling promptly.
In contested divorce cases, where the divorcing couple doesn't see eye-to-eye, a lengthy litigation process is involved. The more issues there are on the table, the longer it could take for the judge to make their decision and ultimately issue a ruling.
When Is Uncontested Divorce a Good Option?
An uncontested divorce is a good option when you and your spouse don't have any disputes and are looking to have your divorce formalized quickly. It's also a good option if you don't have any minor children or marital assets to divide between yourselves.
It's often much easier to agree on everything when there isn't much on the table in the first place. You'll have a more challenging time finding common ground without discussing issues like child custody arrangements, child support, or property division.
DIY Divorce
Sometimes, couples opt to handle their divorce on their own. This could be a good option for those who don't have enough money to hire legal help or want to save money.
How Do DIY Divorces Work?
A DIY divorce is one that you can handle 100% on your own. You don't necessarily need legal aid, although you may choose to seek out a divorce lawyer or divorce attorney for advice and guidance. If you wish to use this divorce method, you'll need to locate the proper paperwork on your own. Your local county clerk can help you with this step.
Divorce papers are not one-size-fits-all. If you have children, for example, the forms you fill out will be different (in many states) than the paperwork of someone who doesn't have any children. Without any legal help, it will be up to you to make sure you have the proper paperwork.
Filling out the wrong forms or inputting incorrect information will delay your case. You'll have to start over from the beginning, which means you'll also have to pay double filing fees.
Pros and Cons of DIY Divorces
When it comes to the self-help method, many couples are drawn to the fact that they won't necessarily need to hire legal aid. However, some risks come with handling something like this on your own, especially if you aren't familiar with the complexities of family law.
Advantages:
DIY divorces can be faster
DIY divorces can save you money
DIY divorces don't typically involve a lengthy litigation process
Disadvantages:
DIY divorce paperwork is usually only acceptable when a divorce is uncontested
If you make a mistake, you won't have anyone to catch it before you file
If you don't understand what you need, you might fill out the wrong paperwork
If you and your spouse have unresolved disputes, you're not likely to find success using this option. On top of that, if you're having difficulty, you might want to consult a lawyer or attorney or forgo this option altogether.
Online Divorce Services
You might also wonder if there is a way to start your divorce online. There are several online divorce services, but your experience will be unmatched with us. We understand how difficult it is to go through a divorce, especially when you're not sure you have enough money to make ends meet in the meantime.
That's why we offer our customers solutions that are not only effective but low-cost as well. Divorcing couples should be able to access the services they need to move on without being sent a bill that they'll have trouble paying off afterward.
What Can Online Divorce Services Help With?
Online divorce services can help with many things, from custom divorce from generation to mediation. With us, you'll never have to worry about whether or not you filled out the proper paperwork. Our skilled professionals will always handle your case with the utmost care.
Starting at the low cost of $49, we offer on-demand mediation services for spouses who need help meeting in the middle. We also provide access to a trusted network of independent attorneys if you can't reach a divorce settlement through mediation. They'll even set up an initial consultation at no charge to you if you'd like to begin discussing your options.
Advantages of Using Online Divorce Services
The primary advantage of online divorce services is that you don't have to leave the comfort of your home to begin filing; all you need is your computer. You also won't have to determine which forms you need or where to get them. This can help prevent errors in filing that will cause the processing of your forms to be delayed.
Online divorce services are also often less expensive than the traditional route, given that there are no significant disputes. This could be an excellent option for couples who are ready to file and don't have much (or anything) trouble agreeing on.
Mediation
Sometimes, divorcing couples need help seeing eye-to-eye. Using a divorce method like mediation, they'll be able to assess where they are misaligned and meet somewhere in the middle. Mediation aims to reach a mutually beneficial divorce settlement quicker than the traditional route.
What Is Mediation?
Mediation is a type of alternative dispute resolution where a neutral third party assists a couple in finding common ground to reach a settlement they are both satisfied with. Mediation can be handled outside of court, and divorcing couples who use this method don't need to hire a lawyer or attorney.
What Are the Benefits of Mediation?
There are many benefits to opting for mediation during your divorce. Here are some of the main highlights.
Mediation is private
Mediation can be handled outside of court
Mediation is often a faster method
Mediation doesn't force a settlement (no "rulings")
Mediation is less stressful for the family (children)
Mediation offers couples the freedom to handle their divorce proceedings amicably and at their own pace, wherever they choose.
Be Careful With Attorneys
It's no secret that attorney fees are high. It's essential to ensure you fully understand what you're paying for before signing an agreement with an attorney. If you don't have enough money to cover your legal fees, resources are available to help.
Advantages of Attorney Help in Your Divorce
A divorce attorney can give you legal advice and guidance when going through a separation. They can also ensure the process runs as smoothly as possible; here are some perks of hiring legal aid.
They already know what you need for filing and court (ex: paperwork and documents)
If you make a mistake on your divorce papers, they'll spot it before you file
An attorney can represent you in court and look out for your best interests
Attorneys already have an in-depth understanding of family law
Alternative Legal Options Legal Aid or Non-Profits
There are a variety of resources and options available for people who cannot afford their legal fees. Some are lucky enough to have a friend or family member act as their divorce attorney at no cost, but this isn't always the case. If you're worried about receiving a high bill from your attorney, consider looking into one of the services below.
Legal Aid
If you're in a bad financial situation, a legal aid fund could provide you with relief. The legal aid society is a government-funded organization whose primary mission is to ensure people don't go without legal help simply because they lack the funds. They have resources available to those who need them in every state.
Nonprofits
Nonprofits are another great resource to seek out. Several nonprofit organizations work with independent lawyers and attorneys to help those lacking funds get the help they're seeking. For those members of underserved and underrepresented groups, the organization can match them with legal aid that understands their situation.
Hiring a Paralegal
You might have considered hiring a paralegal to assist with your case. You must understand what they're able to do and what their limitations are as well.
What Is a Paralegal?
A paralegal handles various legal tasks on behalf of a lawyer or attorney and often works alongside them on cases. They can draft a legal document, perform complex legal research, and even work directly with clientele. A paralegal cannot practice in court, and they cannot offer you legal advice either.
How Do Paralegals Lower Divorce Costs?
A paralegal can help you prepare your divorce papers. This could save you a lot of time and money. They'll be able to guide you as you fill out your forms, make sure they're error-free to avoid delays in processing (and paying double filing fees), and even show you where you need to go to file them.
Fee Waivers
Another option when you're low on funds is filing a fee waiver petition. Anyone can file for this assistance; however, there are some instances where you'll be almost guaranteed approval. If you want to request a fee waiver, you'll need to do so at filing before the court clerk processes your case.
Consider Using Credit
If you have credit cards, you can use them to cover the balance of your attorney fees. However, some drawbacks could be charging significant amounts to your credit card.
How Can Using Credit Help?
This method may help if you've exhausted all your other options and have the available credit to use. If you desperately need legal aid and have no other way of affording representation, you might find yourself opting for this method.
The Risks of Using Credit To Pay for Divorce
There are risks to going down this route. If you're already in a precarious financial situation, it's unlikely that you'll be able to make the minimum monthly credit card payment. You'll have to pay fees if you miss payments, putting you in a tough spot post-divorce.
What Are the Potential Problems With Low-Cost Divorce?
Potential problems with low-cost divorce include:
Difficulty with court procedures
Navigating complex circumstances
Negotiating on your behalf
Difficulty with Court Procedures
You might have a tough time in the court system if you don't understand family law very well. Since low-cost divorce options typically teach you how to forgo legal help, you may have trouble getting through divorce proceedings on your own.
Navigating Complex Circumstances
Navigating issues like property division or child custody can cause stress, especially if you and your spouse don't get along well. If they can't agree, divorcing couples often have to pay for legal representation.
Negotiating on Your Behalf
Advocating for yourself in everyday circumstances could be considered problematic. In court, if you're not familiar with the law, you won't be able to look out for yourself and a divorce attorney because you likely won't know what's in your best interest.
Final Thoughts
We offer several services to help you move forward with your life at an affordable rate. We can even connect you with a network of independent attorneys that provide free initial consultations. Don't let your financial situation prevent you from seeking help. Reach out today.
---