Divorce Rate in the World
Divorce Rate in the World
Divorce Rate in the World
By Divorce.com staff
Updated Apr 12, 2023
The number of divorces worldwide is in a downward trend in most places around the world. However, there are a few exceptions.
For example, while divorce rates increased during the 1970s and decreased in the 21st century in many countries, others—like Norway, the UK, and Canada—experienced a slight but steady increase in the number of divorced couples.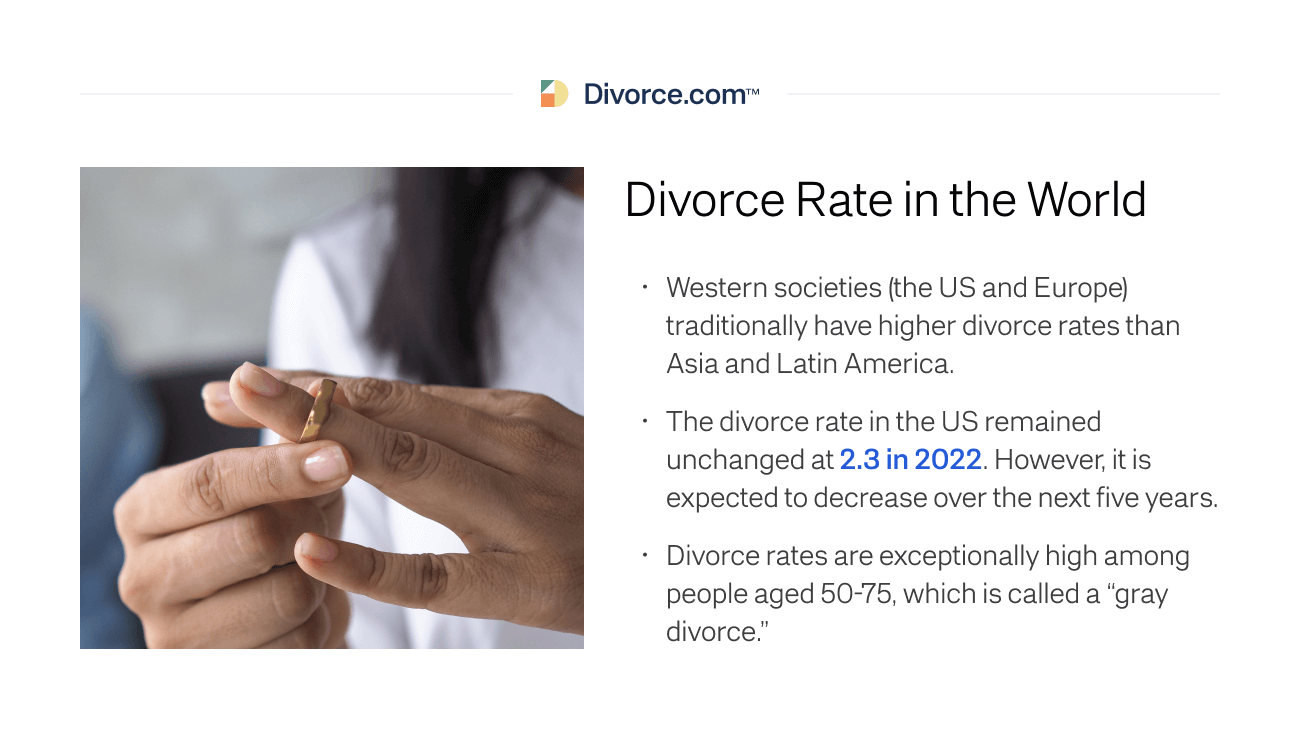 Western societies (the US and Europe) traditionally have higher divorce rates than Asia and Latin America. For instance, the crude divorce rates (meaning a rate calculated by dividing the total number of cases in a given period by the total number of persons in the population) in the US for 2019 and 2020 were 2.7 and 2.3, respectively; in Malaysia, Japan, and South Korea, it was 1.6.
Some scholars believe high divorce rates in western countries result from little or no stigma associated with divorce and greater financial independence among women. This is not true, women suffer financially due to divorce.
The divorce rate in the US remained unchanged at 2.3 in 2022. However, it is expected to decrease over the next five years.
That said, some age groups are more likely to divorce than others. For example, divorce rates are exceptionally high among people aged 50-75, which is called a "gray divorce." However, the number of divorces is decreasing for couples who marry at a later age and have a high school or college education.
Average Divorce Rate Around The World
The average divorce rate around the world will likely decrease based on 2022 data. Per the UN Yearbook, the divorce rate in 2021 was 1.8 using the available data on marriage and divorce worldwide.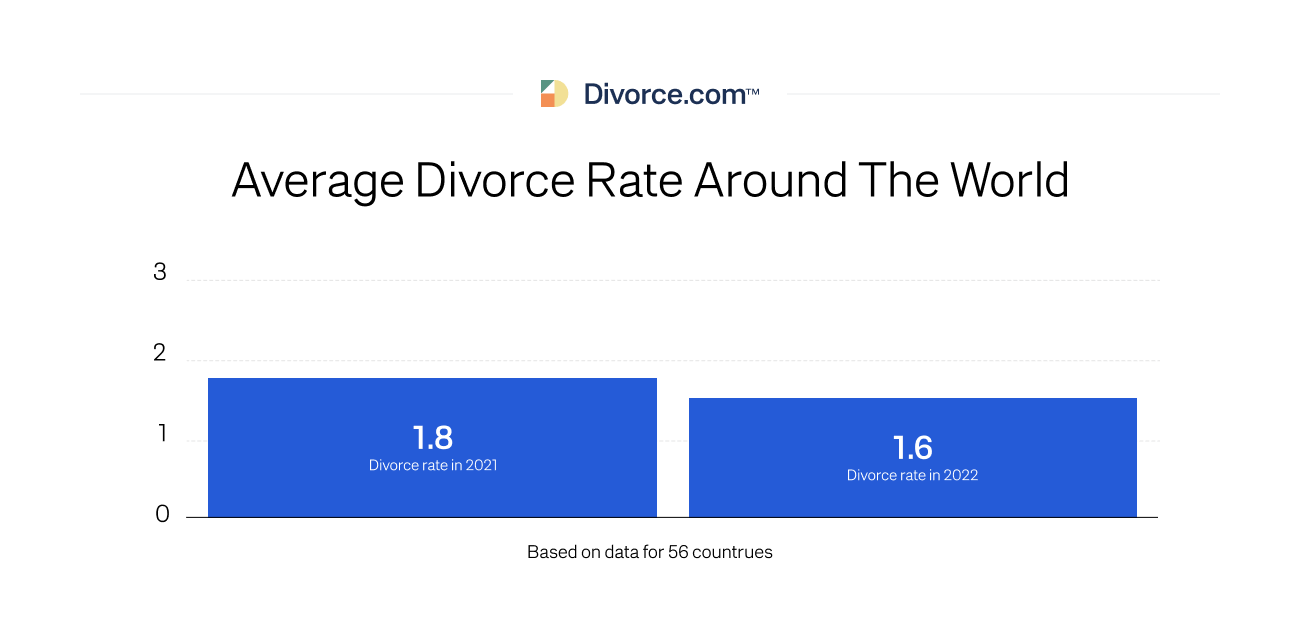 Many countries' data on the number of divorces for 2022 is pending, but based on the collected data for 56 countries, the average crude divorce rate in the world last year was about 1.6.
Countries With the Lowest Divorce Rate
Several factors influence a country's low divorce rate. Things like religion, local divorce laws, and lack of social support and employment opportunities for the divorced population can lower the likelihood couples will divorce.
Moreover, there are regional peculiarities affecting divorce in each country. For example, married women in sub-Saharan African countries do not get divorced because their families will have to return the "bride price" (dowry) that the husband's family paid before the wedding.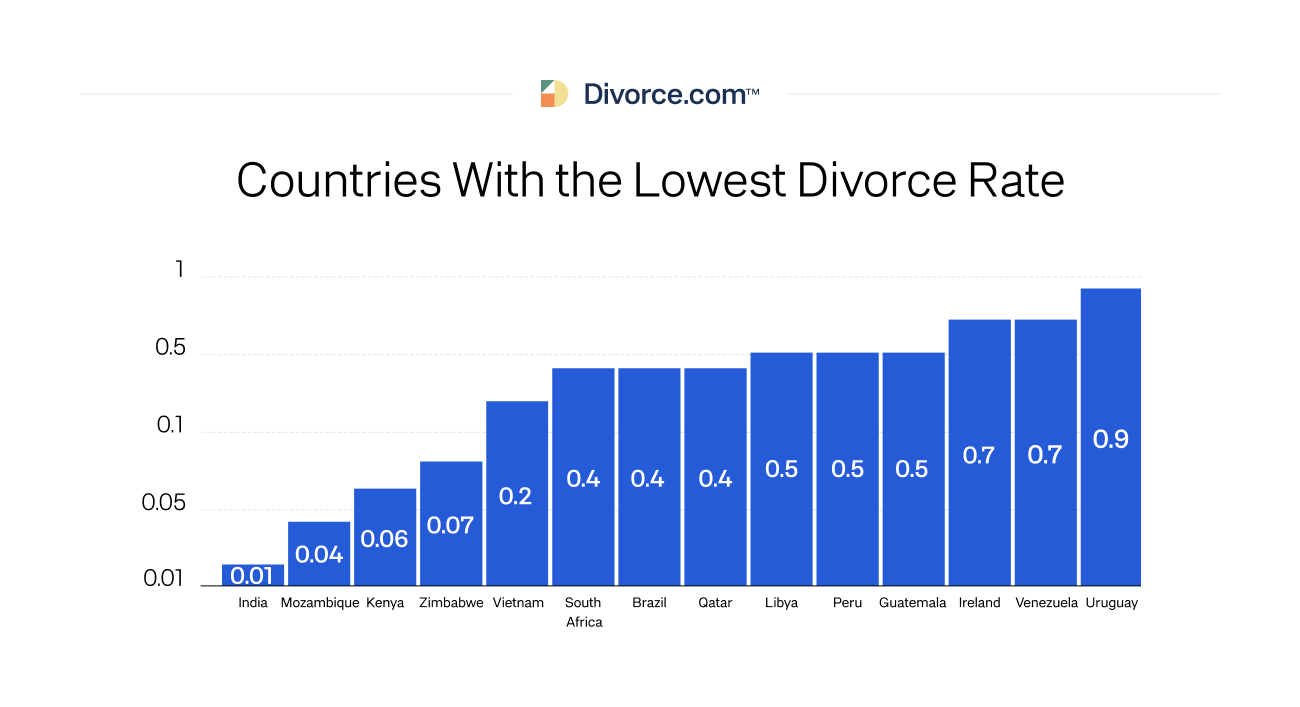 According to 2022 statistical reports and several surveys, the following countries have the lowest divorce rates:
India 0.01
Mozambique 0.04
Kenya 0.06
Zimbabwe 0.07
Vietnam 0.2
South Africa 0.4
Brazil 0.4
Qatar 0.4
Libya 0.5
Peru 0.5
Guatemala 0.5
Ireland 0.7
Venezuela 0.7
Uruguay 0.9
Lowest Divorce Rate Country
India has the lowest divorce rate worldwide in 2022, estimated to be 0.01 (less than 1%) for 1,000 people. Moreover, the country held the lowest global divorce rates in 2020 (0.022) and 2021 (0.077).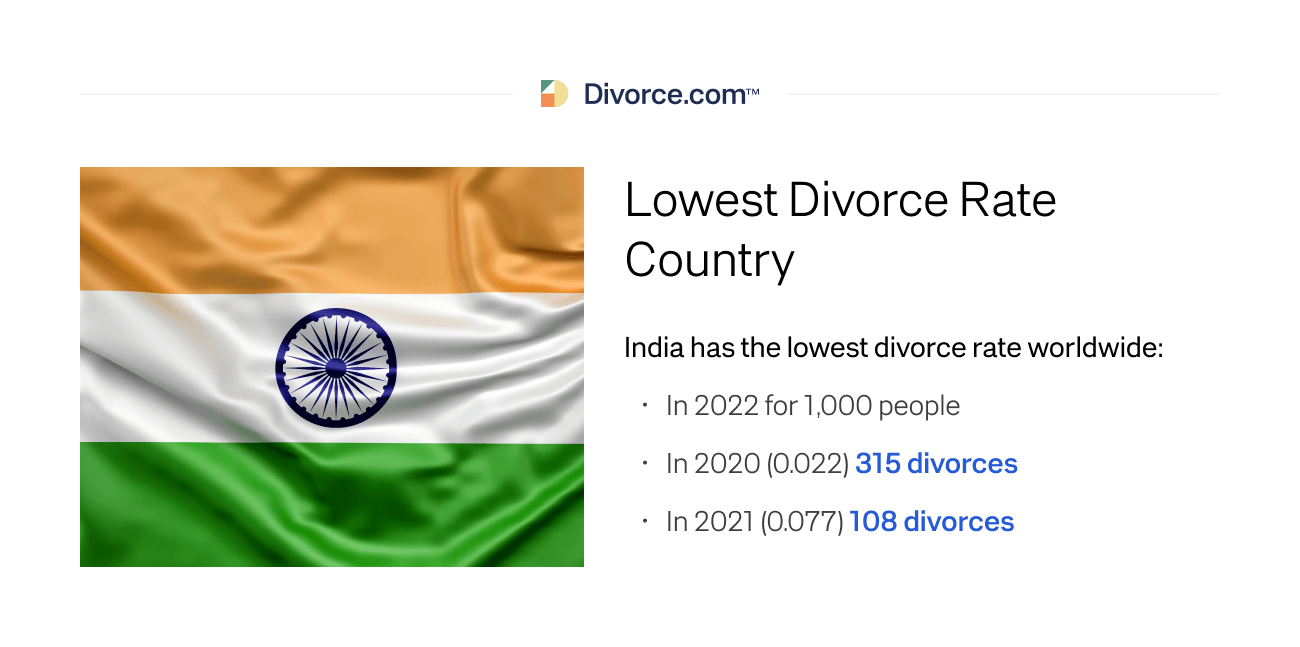 Per the state government data, fewer divorces occurred also. For instance, there were only 315 divorces in 2020 and 108 divorces in 2021.
Countries With the Highest Divorce Rate
There are factors that influence a high divorce rate, too. For example, countries with the highest divorce rate usually have a fast and inexpensive divorce process divorce is neither fast or inexpensive in the U.S., a more educated population, and gender equality regarding employment opportunities for women.
The most common reasons for divorce in these countries include:
Lack of commitment 75%
Infidelity 59.6%
Irreconcilable differences 57.7%
Marrying too young 45.1%
Financial hardship 36.7%
Substance abuse 34.6%
Domestic violence 23.5%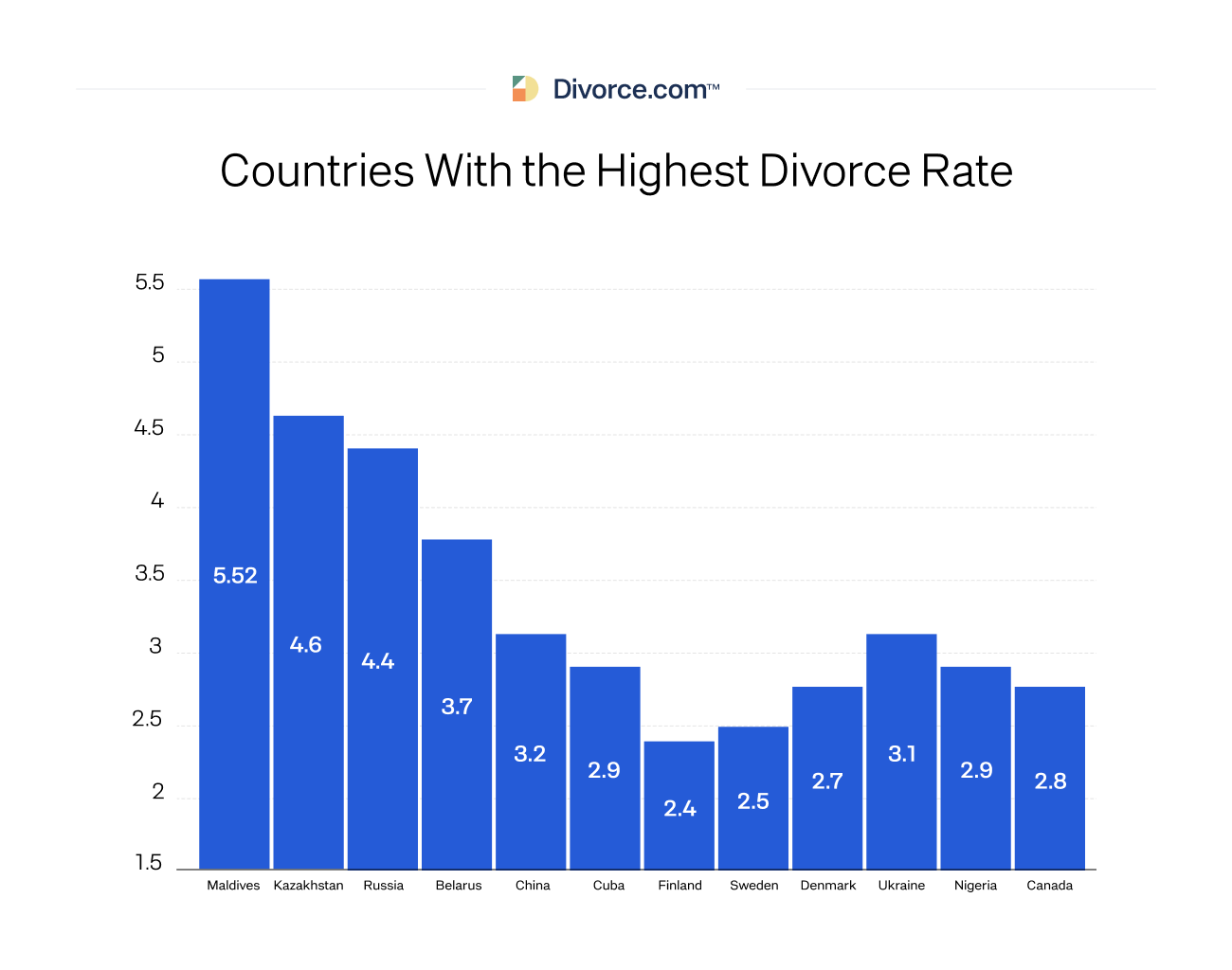 Below are the twelve countries with the highest divorce rates worldwide through 2021 data:
Maldives 5.52
Kazakhstan 4.6
Russia 4.4
Belarus 3.7
China 3.2
Cuba 2.9
Finland 2.4
Sweden 2.5
Denmark 2.7
Ukraine 3.1
Nigeria 2.9
Canada 2.8
Highest Divorce Rate Country
The first place among the countries with the highest divorce rates belongs to Maldives, which was 5.52 in 2021, according to the World Population Review. Several factors can explain such an increased number of divorces.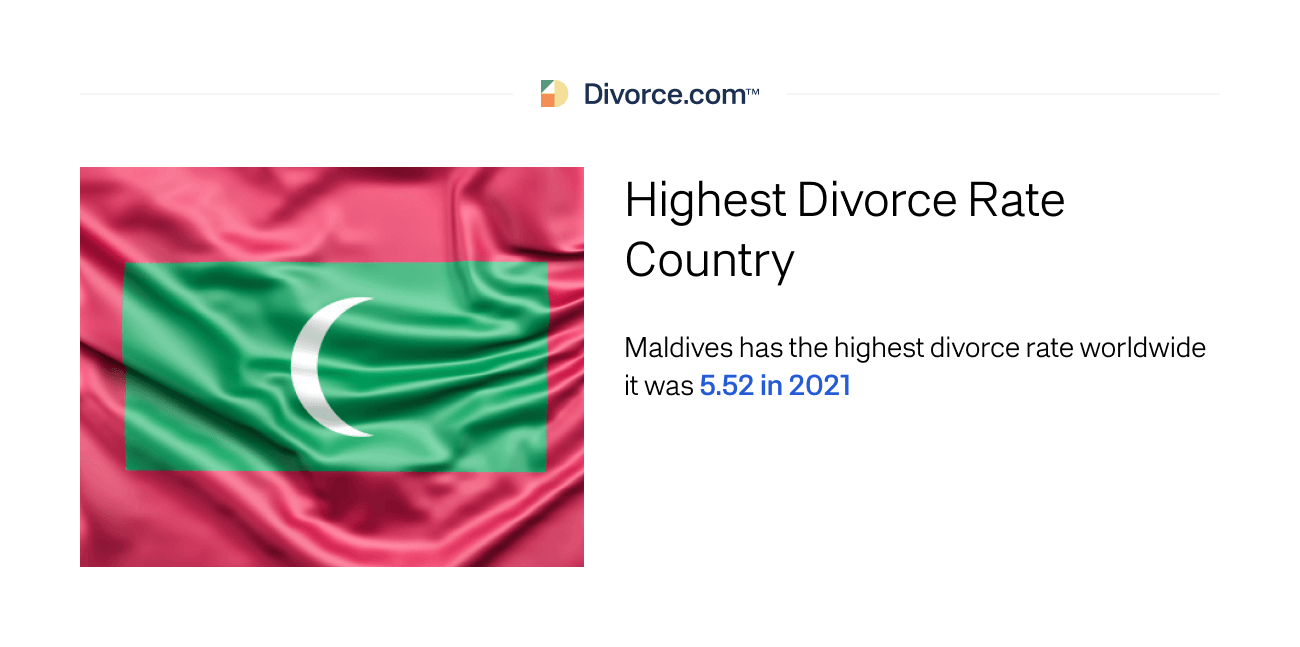 First, the divorce process is relatively straightforward and inexpensive in Maldives. Second, women have become more financially independent and can sustain themselves without a husband. Also, there is little to no stigma of getting divorced in modern Maldives.
Divorce Rate by Country
Divorce rates vary significantly worldwide. Western industrialized countries have more divorces than highly religious Asian and African countries and those with gender inequality and social stigma about divorce.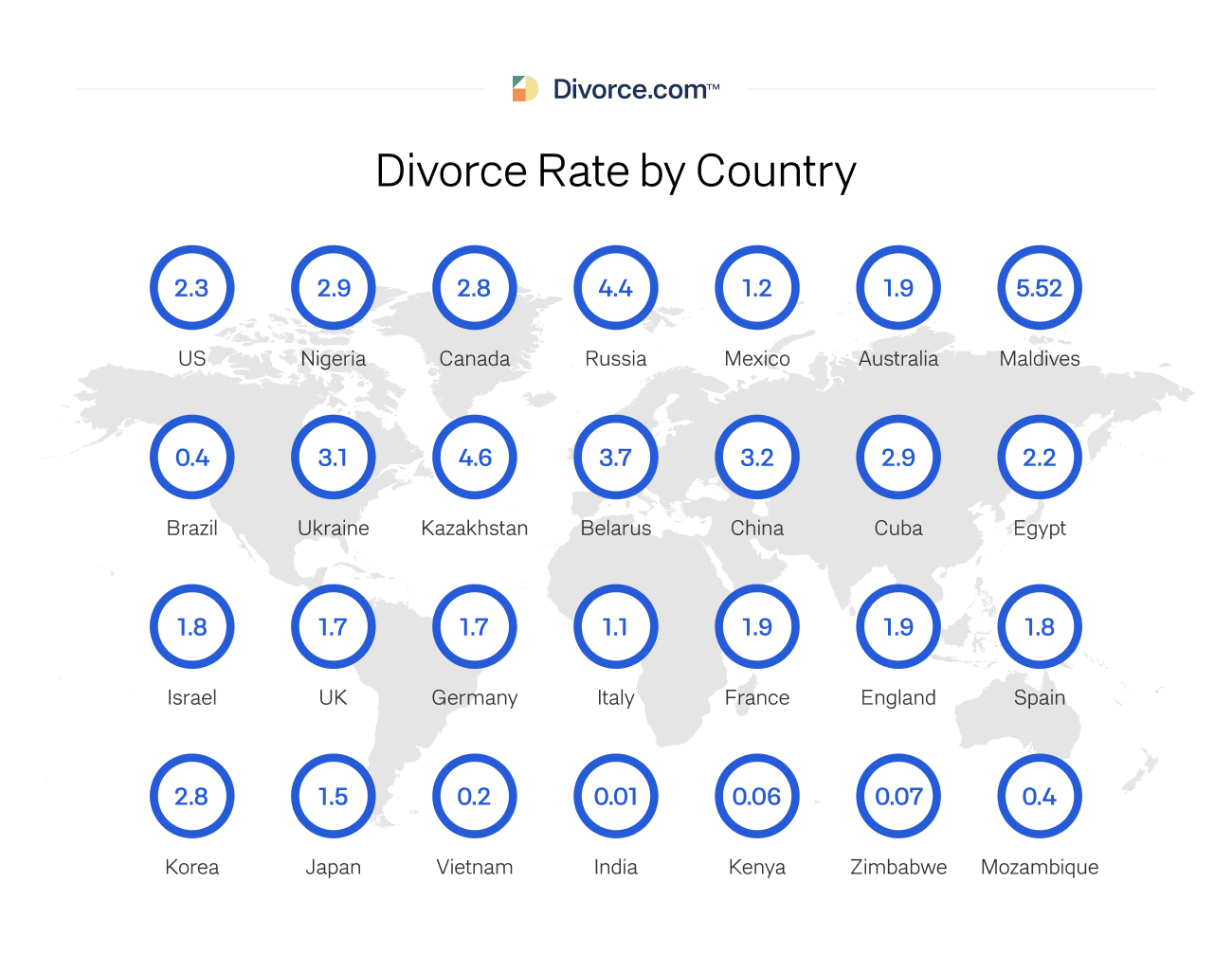 Here is the divorce rates distribution in different countries from the most recent data:
US 2.3
Nigeria 2.9
Canada 2.8
Russia 4.4
Mexico 1.2
Australia 1.9
Maldives 5.52
Brazil 0.4
Ukraine 3.1
Kazakhstan 4.6
Belarus 3.7
China 3.2
Cuba 2.9
Egypt 2.2
Israel 1.8
UK 1.7
Germany 1.7
Italy 1.1
France 1.9
England 1.9
Spain 1.8
Korea 2.0
Japan 1.5
Vietnam 0.2
India 0.01
Kenya 0.06
Zimbabwe 0.07
Mozambique 0.04
Divorce Rate in Europe
Divorce rates in European countries have traditionally been higher compared to other parts of the world. According to the reports, Gov.uk, and World Population Review, the crude divorce rates in Europe are the following: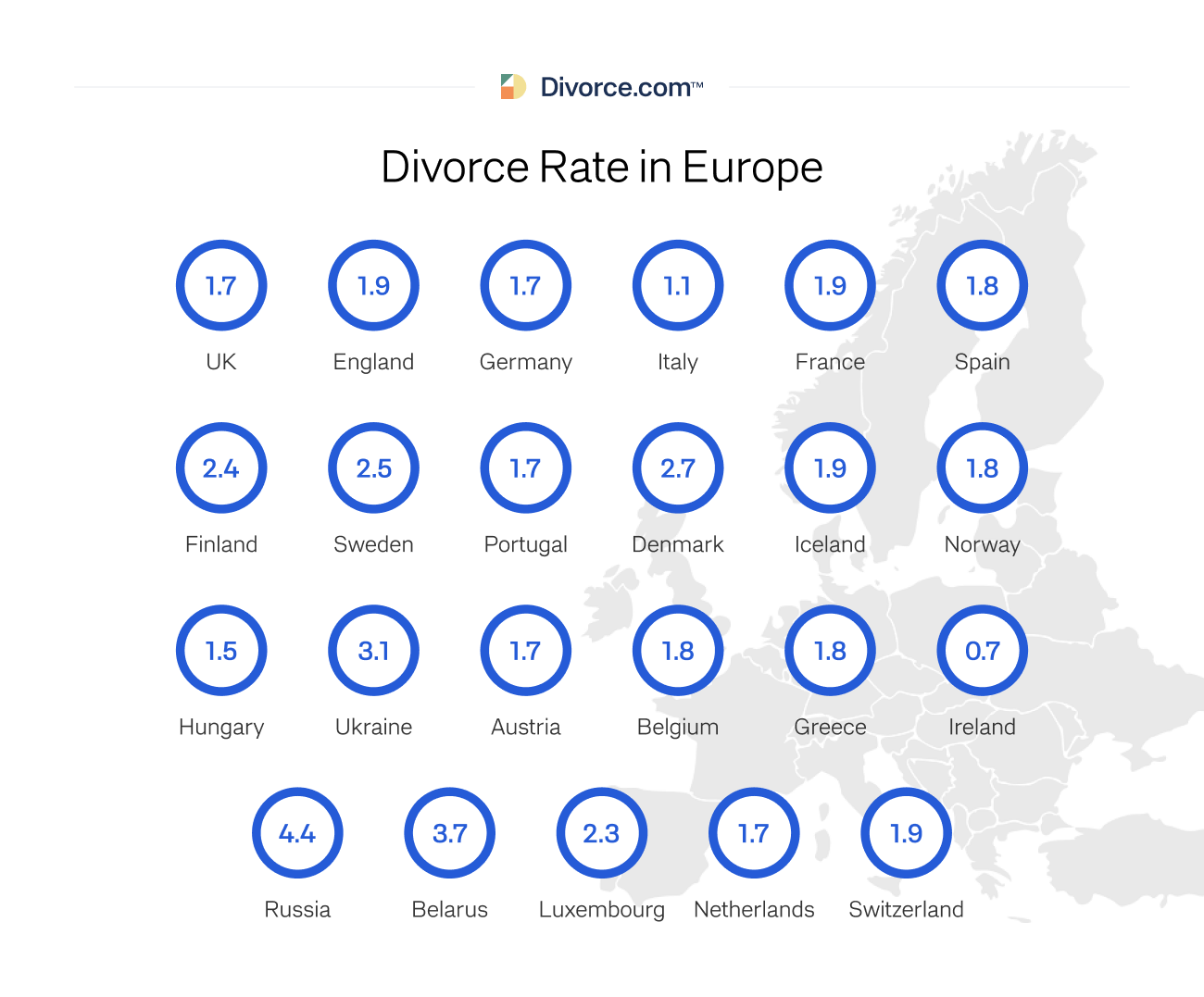 UK 1.7
England 1.9
Germany 1.7
Italy 1.1
France 1.9
Spain 1.8
Finland 2.4
Sweden 2.5
Portugal 1.7
Denmark 2.7
Iceland 1.9
Norway 1.8
Hungary 1.5
Ukraine 3.1
Austria 1.7
Belgium 1.8
Greece 1.8
Ireland 0.7
Russia 4.4
Belarus 3.7
Luxembourg 2.3
Netherlands 1.7
Switzerland 1.9
The data shows that divorce rates are higher in Northern Europe and Russian Federation and lower in other parts. The EU countries with the highest divorce rates are Denmark, Sweden, Finland, and Luxembourg.
Some researchers believe that the more religious the society, the more stable the family units. For instance, Ireland and Italy, having conservative Roman Catholic beliefs, have the least divorces in Europe.
While this can be true to some extent, religion is not the critical factor influencing marriage stability. Another significant driver is the low cost of divorce in countries like Denmark and Sweden, where spouses can get divorced for roughly $100. In comparison, the cost of filing a divorce petition in the UK is around $600.
However, the low divorce costs are not the only reason for higher divorce rates. The spouses in Northern European countries are less dependent on each other financially. For example, more than 58% of Danish women aged 15-64 are employed compared to 40% in Italy and 43% in Greece, according to OECD data.
Consequently, more various employment opportunities and higher income make women less likely to stay in an unsatisfactory marriage for financial considerations.
Divorce rates in Eastern Europe (Russia, Belarus, and Ukraine) are higher than in other parts for many of the same reasons. These include the low cost of the divorce process, financial instability and poverty, and in some cases, alcoholism of one of the spouses.
Divorce Rate in Asia
Divorce rates in Asian countries have been changing in recent decades. There are a few socio-economic switches at work here, such as the increasing female educational enrollment and labor force participation.
According to research on divorce trends in Asia, other factors influencing divorce rates in this region are higher age at first marriage, changes in civil laws regulating divorce, and the extent of support for the divorced population.
The divorce rates published in the World Population Report are the following: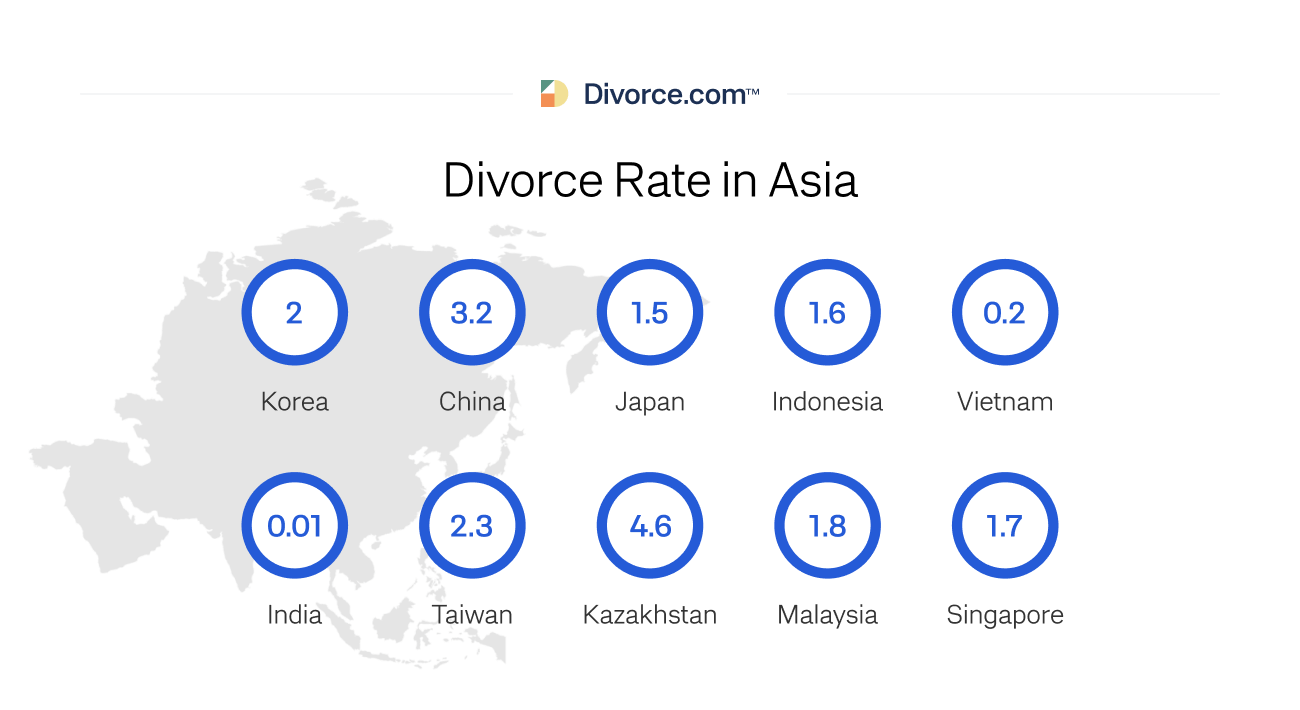 Korea 2.0
China 3.2
Japan 1.5
Indonesia 1.6
Vietnam 0.2
India 0.01
Taiwan 2.3
Kazakhstan 4.6
Malaysia 1.8
Singapore 1.7
Divorce rates vary tremendously in Asian countries, depending on their location. For example, East Asian countries (Korea, China, Japan) experience more divorces than South and East regions. Moreover, divorce rates have been growing here since 1980 and remain relatively high.
This substantial increase in divorces may be connected with a reduction social pressure to stay married and a decrease in the stigma of being divorced.
For example, if earlier South Korean men and women were less likely to get employed, these days, they have more employment opportunities and can survive divorce financially. Additionally, some East Asian societies experience a slight change towards individualism as part of the demographic transition trends.
A notable exception is Vietnam, where divorce is strongly culturally discouraged, especially in the northern and rural areas. As a result, the country's dissolution rates fell from 0.4 in 2017 to 0.23 in 2021.
The available data also shows that divorce rates in South Asia (India, Sri Lanka) are the lowest in the region. Researchers explain it by gender inequality in these countries, meaning that most women depend on their spouses and cannot return to their parents after divorce.
Divorce Rate in America
The US divorce rates have been slowly declining over the past decade. The country reached a 2.3 crude divorce rate per 1,000 in 2020, which remains the same today.
One reason for this downward trend in marriage dissolutions is fewer marriages in the first place. Another factor is that couples start getting married later in life and after reaching a certain level of financial success.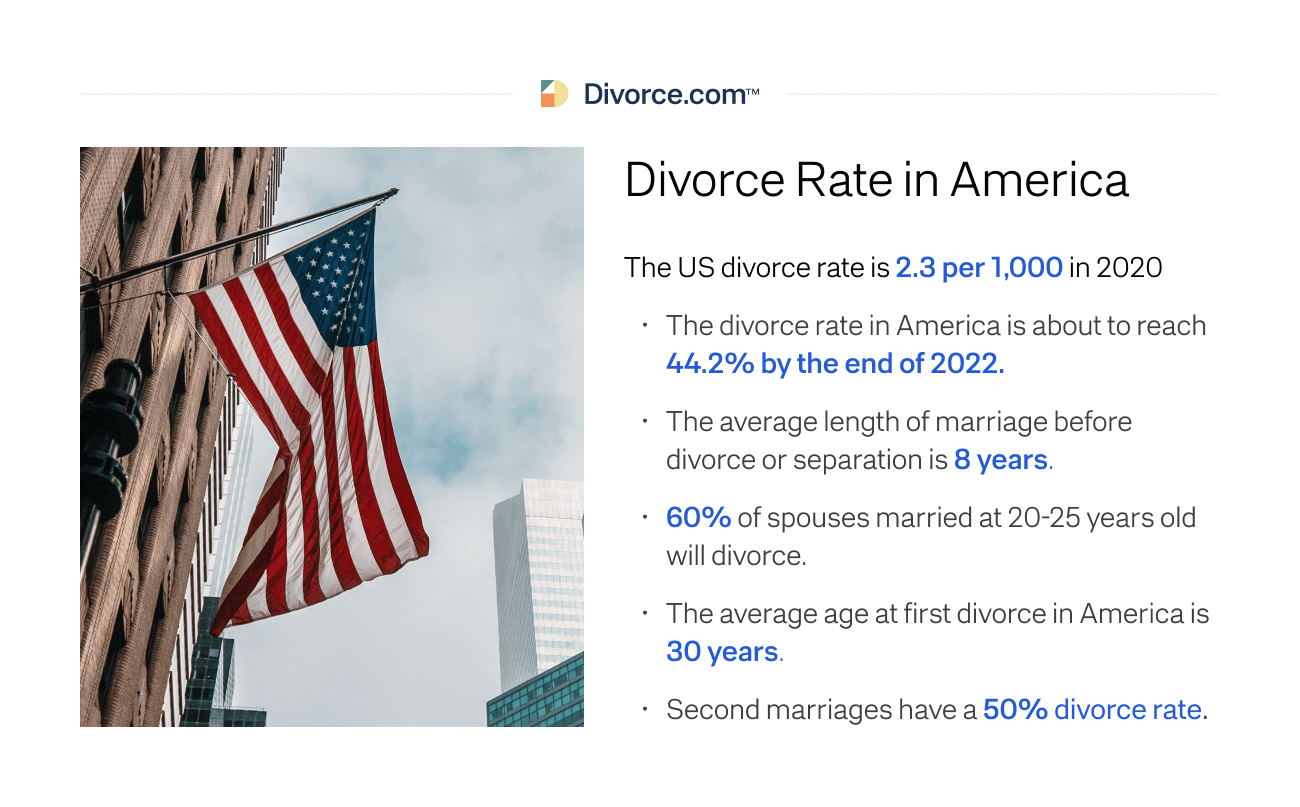 Quick divorce in America facts:
The divorce rate in America is about to reach 44.2% by the end of 2022.
Arkansas and Oklahoma show the highest number of divorces nationwide: 10.7% and 10.4%, respectively.
Maine and the District of Columbia have the lowest divorce rates: 4.8%.
The average length of marriage before divorce or separation is 8 years.
Financial strain is the most commonly cited reason for divorce in the US.
60% of spouses married at 20-25 years old will divorce.
The average age at first divorce in America is 30 years.
Millennials and Gen Z have higher divorce rates - 23 and 27 divorces per 1,000 people - than other generations.
Second marriages have a 50% divorce rate.
Divorce Rate in Africa
Africa has 57 countries, geographically divided into Northern Africa and Sub-Saharan Africa. These two regions differ in divorce rates.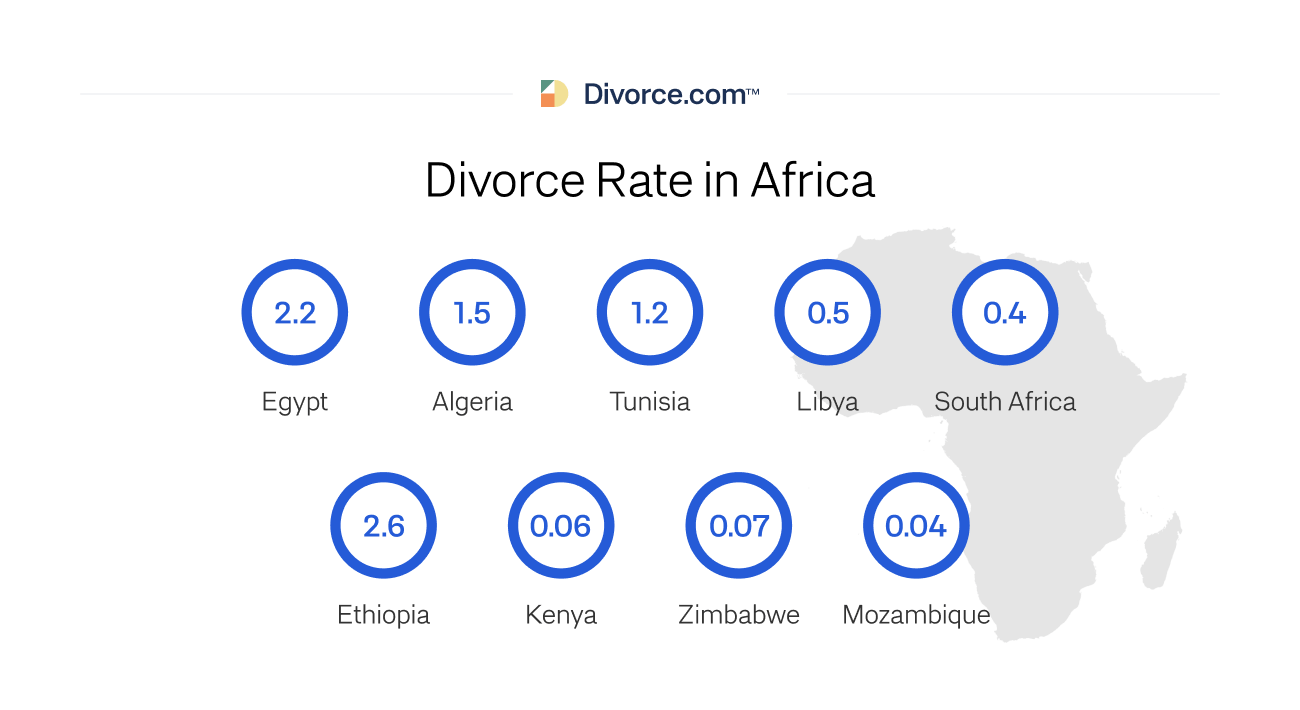 Data from surveys demonstrate the following divorce rates in African countries:
Egypt 2.2
Algeria 1.5
Tunisia 1.2
Libya 0.5
South Africa 0.4
Ethiopia 2.6
Kenya 0.06
Zimbabwe 0.07
Mozambique 0.04
The main factors influencing divorce rates in Africa are age at first marriage, financial independence, polygyny, and HIV/AIDS risks. According to research on divorce in sub-Saharan Africa, it is especially true for women, who initiate divorce more often than men.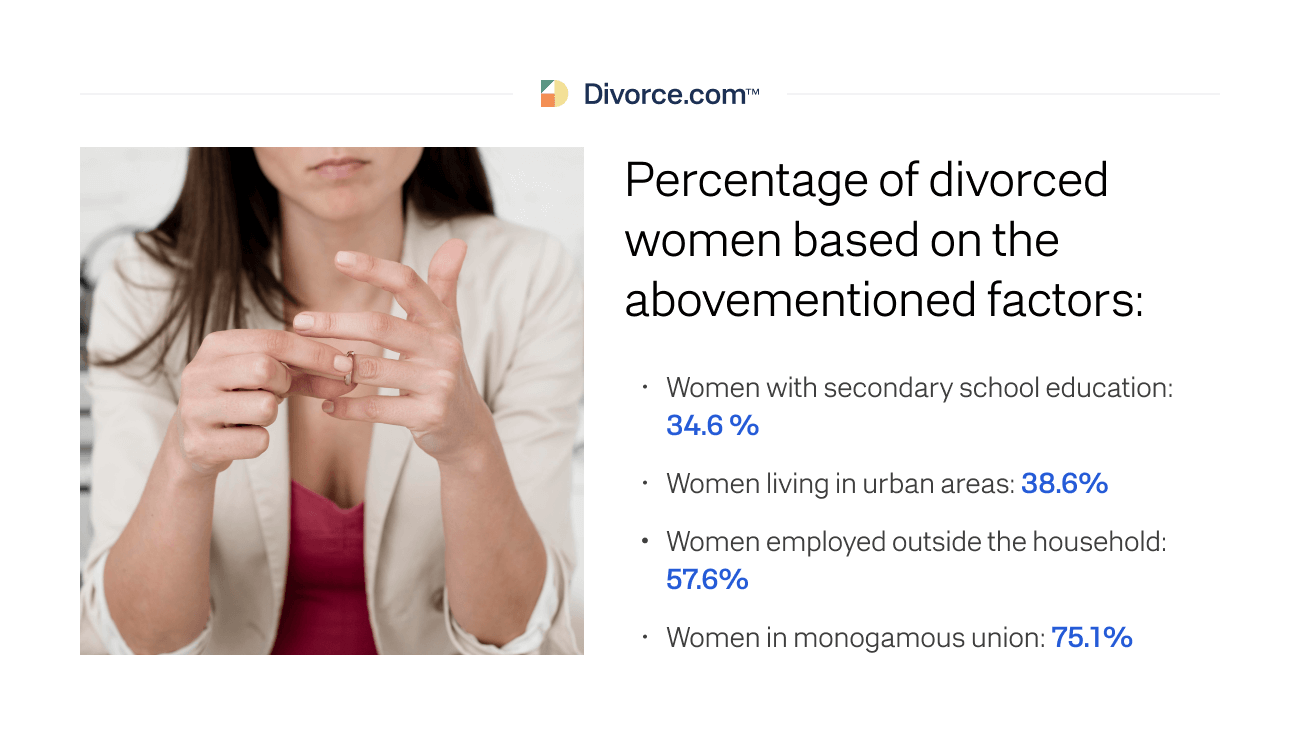 The following statistics demonstrate the percentage of divorced women based on the abovementioned factors:
Women with secondary school education: 34.6 %
Women living in urban areas: 38.6%
Women employed outside the household: 57.6%
Women in monogamous union: 75.1%
Divorce rates in several countries are declining slowly. For example, there were 0.3 divorces for every 1,000 people in 2019 in South Africa, and now there are 0.27 divorces. This tendency can be partly attributed to the drop in marriages in the country. According to the Department of Statistics of South Africa, unions declined by 45.1% from 2011 to 2019.
The African countries with the least divorce rates are Zimbabwe, Mozambique, Kenya, South Africa, and Libya. However, the latest trends in these countries show more divorce cases. For instance, Zimbabwe has seen an increase of 234 divorces compared to 2020.
The stability of marriage in sub-Saharan African countries largely depends on religion and extended family ties. In particular, conservative Christians, who considered divorce a taboo in the past, now increasingly believe it to be a better option than domestic violence and infidelity.
In addition, if a marriage requires paying a substantial amount of money to the bride's family, maternal relatives will try to keep the union from falling apart. Otherwise, they will have to return the portion or all of the "bride price."
Divorce Rate in Latin America
Divorce rates in Latin America remain lower than in western and eastern countries. It may be attributed to the lower income and educational level of women who cannot support themselves after divorce.
For instance, only 65% of girls 11-14 years old finished secondary school, and less than 50% graduated from high school in 2019.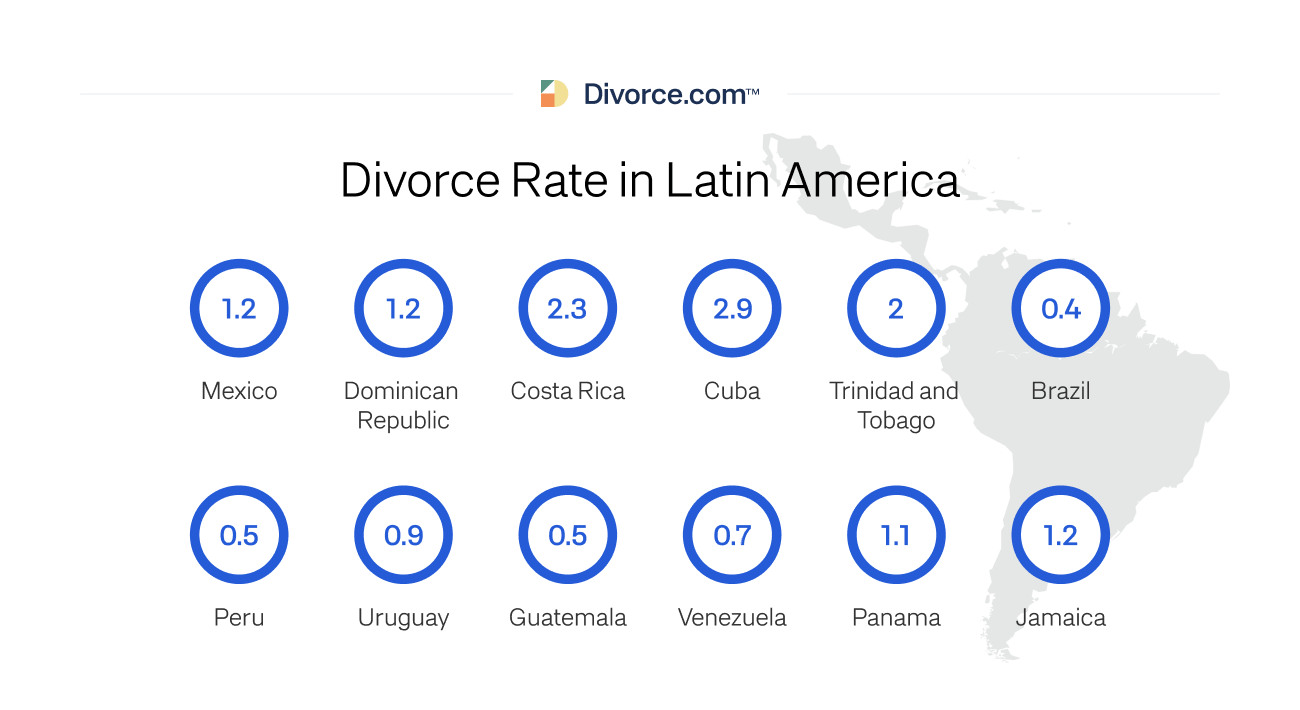 Divorce rates in the countries of Latin America are relatively low, according to a 2022 poll, World Population Review, and national surveys:
Mexico 1.2
Dominican Republic 1.2
Costa Rica 2.3
Cuba 2.9
Trinidad and Tobago 2.0
Brazil 0.4
Peru 0.5
Uruguay 0.9
Guatemala 0.5
Venezuela 0.7
Panama 1.1
Jamaica 1.2
The results show that divorce rates are higher in the countries located in Central America and the Caribbean compared to the countries in the south. These differences can be explained by many factors, one of which is the restriction to getting divorced in the Southern Latin region until the late 20th century.
For example, the Mexican legislature allowed dissolutions in 1914, but Brazil forbade divorces until 1977. Research explains that high divorce rates in Mexico might also be the result of the introduction of a unilateral (uncontested) divorce, making the process easier and faster.
The closer the countries are to the US border, the more divorces they have. The increase may result from a "westernization" of views on relationships and the role of women in society and the labor market, says the National Healthy Marriage Resource Center fact sheet.
South America has low marriage rates, which indirectly influences the divorce rates in the region. Moreover, unofficial unions and cohabitation are more common here than in other parts of Latin America.
Another reason for low divorce rates in Latin America is that family unity is culturally valued. It leads to couples staying together even when there is an abusive relationship.
---