8 Things To Ask for in Divorce Mediation
8 Things To Ask for in Divorce Mediation
8 Things To Ask for in Divorce Mediation
By Divorce.com staff
Updated Oct 04, 2022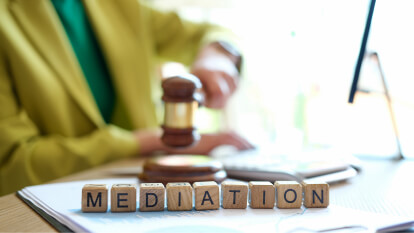 Divorce mediation can dramatically simplify the process of divorce. If you're able to effectively communicate with your partner, you can save a lot of time, money, and stress handling your divorce with the help of a mediator.
You should enter the mediation process with a plan. If you know what you need to figure out, you're less likely to run into roadblocks as you're working through the process. Here's what you should ask for in divorce mediation. Consider possible solutions to every issue and bring them up in mediation.
What Is Divorce Mediation?
Divorce through traditional routes can be extremely stressful for everyone involved. Divorce mediation is a less stressful alternative to divorce court. Rather than hiring lawyers and going through the lengthy and expensive process of allowing a judge to make important decisions for you, divorce mediation empowers couples to make their own choices.
You'll have sessions with an expert divorce mediator who will walk you and your partner through the process of divorce. Your mediator can offer suggestions regarding the best way to approach many aspects of your divorce.
Mediators aren't like judges. They can't enforce anything or impose orders. They're a part of your sessions as an expert third party who can assist you throughout every part of your divorce. You and your partner will work together to make important decisions, and the mediator helps you turn those decisions into a divorce settlement.
What To Ask Your Mediator About
Mediators can come from different backgrounds. They don't all provide the same services. Some of them bundle additional services into their fees, and you might want to take advantage of those services. Here's what you should ask a mediator during your initial consultation.
Costs and Services
You need to know what you can expect to pay when you work with a mediator. It will always be significantly less than what you'd spend in court with a lawyer. You can split the costs of the mediator with your partner if both partners have the financial means to facilitate your divorce.
Some mediators offer additional services or referrals to qualified professionals. You may need services like financial planning or mental health counseling during your divorce. Your mediator might be able to help you with that.
Divorce Processing
Mediators aren't required to be licensed attorneys. Mediators who are attorneys can process your divorce. If your mediator isn't a licensed attorney, you might want the assistance of a licensed attorney to process your divorce.
Record Keeping
An important part of your mediator's job is to keep the discussion on track and take notes as necessary. Ask your mediator how they intend to keep track of information and record the decisions you and your partner mutually agree to. These notes will come in handy as you wrap up your divorce, and if anything is ever called into question, you'll have a useful record.
What To Ask for in Your Divorce Mediation
Mediation allows couples to reach agreements that they feel are fair. When you go to court, things won't always play out that way. Use the unique freedom you gain through mediation to work with your partner. With the help of your mediator, you'll be able to determine what's fair.
1. Fair Property Division
If you were married for a long time, you probably acquired a significant amount of property with your partner. This includes things like homes and cars. In mediation, you'll decide who gets what property. You can even agree to sell an asset and split the proceeds.
2. Equitable Asset Division
If you currently share or have contributed to a savings account, retirement account, or business with your partner, you'll need to figure out who is entitled to how much of each asset. If you own or operate a business together, you can decide how to handle the situation.
If you have a strong ability to communicate with your partner and you're able to see eye to eye when it comes to the business, you can even choose to continue to work together.
3. Debt Allocation
You probably have some financial commitments leftover from your marriage. Someone needs to pay the outstanding bills. Mediation can help to decide who will pay these debts and how they will be paid.
4. Best Child Custody Arrangement
If you have older teens, you might not be worried about child custody. If you have young children, it's a good idea to have a child custody arrangement. Your child custody arrangement should be designed to facilitate effective co-parenting and the well-being of your children.
Although you don't need one, having an enforceable set of guidelines will help keep both parties accountable. It can also help to create structure and routine for children when they need it most. Gently speak to your children about how they feel and create a custody arrangement that prioritizes their emotional needs, as well as their health.
5. Fair Child Support
The cost of raising a child from birth through their high school graduation is over $250,000. You'll work with your mediator to determine how to best divide that responsibility. Child support is typically paid by the parent who has the least amount of physical custody.
6. Fair Spousal Support
Spousal support isn't always necessary and shouldn't always be awarded. It isn't arranged when both partners have similar earning power at work. If one partner has earned significantly less throughout the duration of a long marriage, they may request spousal support if the other partner has the means to make payments.
You'll work with your mediator to determine if these payments are appropriate. If they are, your mediator will help you calculate a fair payment.
7. Insurance Policy Ownership
Couples and families often bundle insurance plans. If you have health, dental, or life insurance with your partner, you won't want to stay on the same plan after your split. You'll need to decide who owns the policy and who will have to get insurance elsewhere.
8. Clear Procedures and Communication
The wrap-up is just as important as everything else you'll discuss. You need to create a plan for the hereafter. The divorce agreement is intended to hold both parties accountable. What happens when someone doesn't do their part?
If you have another argument, how will you settle it? How will you communicate with each other when you have questions about your roles and responsibilities?
You should use your mediation session to create a follow-up plan. This will reaffirm everything you've discussed and agreed upon.
On-Demand Mediation Services with Divorce.com
Divorce.com offers on-demand mediation services for couples who would prefer to avoid a lengthy, stressful, expensive divorce in court. If you're willing to communicate with your partner and find common ground, mediation can make your divorce a lot easier.
We'll pair you and your partner with a divorce mediator on-demand. During your initial consultation with a mediator, you'll have a three-way phone call to discuss what you're trying to achieve and identify the level of disagreement. Your mediator can help to prepare solutions for you.
Conclusion
Divorce mediation is one of the most helpful tools couples can use when they decide to formally end their relationship. Make sure you're asking all the right questions. Your experienced mediator will likely remind you if there are any important things you're forgetting, but they won't know to ask you about your joint retirement account or vacation home if they don't know it exists.
Stay organized throughout mediation and take your time. It's important to civilly come to a mutually agreeable decision, even if it takes a little time. Divorce.com is here to help whenever you need us.
---